'P.U.S.H For Success' by Saira Khan
Thursday 23rd February 2006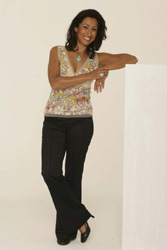 Published : 2 MARCH 2006
Priced : £9.99 PB
Publisher : Vermilion
Renowned business sales and motivational expert and star of BBC TV's 'The Apprentice', Saira Khan, shares the secrets of her success and offers brilliant ballsy strategies to, in her words "achieve whatever you want to" in her new book P.U.S.H. for Success.
Motivational and inspirational, the book uses Saira's unique four-pronged approach to success.
P = Be Proactive,
U = Understand Yourself
S = Sell Yourself
H= Have High Standards

Easy to read and written in Saira's common sense, no-nonsense style, P.U.S.H. for Success challenges the traditional British approach to personal development and is based on Saira's inspirational route to success and what makes her tick.
Saira draws on her lessons of childhood, her upbringing as well as The Apprentice to show readers how to have a more fulfilling and meaningful life. She shares her road-tested tips and practical advice on areas such as gaining confidence and self-awareness, learning to improve your skills, opening yourself up to new opportunities, getting a focus and direction for your energy and efforts, and measuring your own success.
"My life experience has taught me a very important lesson and that is that if you don't push in life you are going to end up having to settle for second best and become an average person. I have never been prepared to be second best," comments Khan.
For anyone who has woken up in the morning and thought, "there must be more", Saira reveals sure-fire steps for recognising and realising your own potential by looking at your extraordinary attributes, thinking about your vision and values, and using them to build a successful life. At the end of each chapter, a practical Action Plan helps you visualise your activity and ensures you keep track of your achievements.
'P.U.S.H. for Success' will inspire men and women to take that first step to seize the opportunity and realize their dreams.
Coming from a strict Muslim background, her parents were born in Pakistan before emigrating to the United Kingdom, she had to work hard to throw off the stereotypical image young Muslim women have and to prove herself in twenty first century Britain. She went to gain a MA honours degree and worked in sales for some of the UK's leading blue chip companies. She successfully runs her own internet business with her husband and owns properties in the UK and France.
Runner up in The Apprentice, Saira won the hearts of the nation working for legendary businessman, Sir Alan Sugar Since the programme, numerous broadcasters are picking up on the infectious Saira factor from 'Loose Women', 'Breakfast News', 'The Culture Show', 'GMTV', BBC1s 'Departure Lounge', 'Test the Nation', 'Daily Politics Show', BBC 2's '2005 Teaching Awards', Radio Five Live, LBC Radio to 'Heaven and Earth Show'. Saira is recording a BBC 1 daytime series at the end of January 2006 and will be a regular columnist with BBC 2 Online for the second series of "The Apprentice". As columnist and author, she also has contributed to national newspapers such as The Mirror, The Guardian, Daily Mail, The Sun and Financial Times as well as women's consumer publications.
She was recently invited by Chancellor Gordon Brown to participate in Enterprise Week. Saira's sales and motivational skills are highly in demand at corporate speaking events as well as educational establishments.
Names In The News Archive