Dave Stewart's 'Platinum Weird' - 'Make Believe'
Thursday 14th September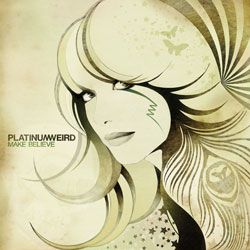 U.S. Release date: October 10th, 2006
U.K. Release date: October 16th, 2006
For the past six months the publicity behind Dave Stewart's latest music project, Platinum Weird, has sparked off fascination and keen interest amongst classic rock fans around the world. Platinum Weird is the name of Dave's new rock band. This is no ordinary band, but what it does have is an extraordinary past. Stewart has returned to Platinum Weird 32 years after the band originally split.
In 2004 Stewart hooked up with acclaimed LA-based songwriter Kara DioGuardi to write songs for The Pussycat Dolls. The pair struck an instant bond and re-launched Platinum Weird, the constant being Stewart, with the sole intention of continuing their passion for no-frills 70s-inspired rock'n'roll.
In 1974 Stewart was originally a member of a short-lived band named Platinum Weird signed to Elton John's Rocket Records label. On the eve of the album's debut release in '74, the original lead singer, Erin Grace, suddenly disappeared.
Mick Jagger, Stevie Nicks and Ringo Starr were recently featured in a Platinum Weird rockumentary; all of whom mentioned their distant recollections of the original PW line-up.
Don't let Platinum Weird's rich history take away from the band's incredibly moving rock'n'roll songs. The feature single, Will You Be Around, could easily be an outtake from Fleetwood Mac's Rumors sessions. The previously unreleased 1974 album, Make Believe, will be released by Interscope Records in North America on October 10th, followed by a European released by Weapons of Mass Entertainment through Universal on October 16th.
"Make Believe"
Track Listing
01. Will You Be Around 3:31
02. Lonely Eyes 3:25
03. Happiness 3:32
04. Make Believe 3:31
05. Picture Perfect 4:05
06. If You Believe In It 3:27
07. Love Can Kill The Blues 5:03
08. I Pray 3:23
09. Piccadilly Lane 3:08
10. Goodbye My Love 4:52
In addition to writing hundreds of songs with Annie Lennox via Eurythmics, Stewart has also written songs with Mick Jagger, Bono, Sinead O'Conner, Bryan Ferry, Bob Geldof, Anastacia, Jon Bon Jovi, and has produced everyone from Aretha Franklin to the Ramones.
Kara DioGuardi is currently America's most celebrated female songwriter, and has penned songs for Santana, Christina Aguilera, Ashlee Simpson, Hilary Duff, Pink, Kelly Clarkson and Kylie Minogue.
The history surrounding the original incarnation of Platinum Weird continues to intrigue rock'n'roll enthusiasts. In 1974 Dave Stewart formed PW in London with female songwriting partner, muse, and soul mate, Erin Grace. Their debut gig was at Mick Jagger's birthday party and they quickly enjoyed a cult-like status and following in London's rock club scene. Elton John's Rocket label signed the band, putting down an advance to send them into the studio and lay down tracks.
Erin's behavior during the making of the album was unpredictable. Prone to mood swings and emotional insecurity, sometimes she would disappear for several days, reappearing as if nothing was unusual with a smile and ideas for new songs. "She was wispy and elusive," recollects Stevie Nicks. "I wasn't quite sure what she was about, but I kind of copied her look."
With artwork on the album finalised and a confirmed release date, Erin vanished again, leaving Dave nothing but a demo of a song called Will You Be Around and a closet of metal hangars where she used to hang her clothes. The intended debut album "Make Believe" was never released and its name disappeared from public consciousness as quickly as the elusive songstress herself. Dave went into a deep depression, a period he later referred to as his 'lost years.' Two years Stewart formed Eurythmics with Annie Lennox and the rest would become part of musical history.
During Stewart's success with Eurythmics, Kara DioGuardi was a young schoolgirl living in the upscale neighborhood of Scarsdale, an hour north of New York City. Her early interest in music was encouraged by an older woman who lived nearby and became her mentor in those formative years. By 2004, having become, as an adult, a successful songwriter, with scores of hit songs to her credit, Kara teamed up with Stewart under the guidance of legendary record producer Jimmy Iovine.
Waiting to rehearse with Kara in his Hollywood home studio, Dave found the old Erin demo of Will You Be Around. As he was strumming the guitar and singing the song, Kara arrived and immediately chimed in with the chorus. Dave was amazed; only he and Erin were the only people who knew that song. Kara explained that she was taught it by her mentor all those years ago in Scarsdale. It could only mean one thing—that woman and Erin were the same person.
Somehow the gods of rock n' roll had decreed that Kara and Dave, inhabiting their separate universes and separated by time and place, were destined to meet.
The magical synchronicity enabled Platinum Weird to restore its musical legacy and reach out to a new generation.
Sparked on by his current collaboration with Kara, Stewart rediscovered his early recordings of Platinum Weird featuring Erin Grace. It's a miracle those vintage '74 recordings are finally being compiled and mastered for a release 32 years after it was originally intended to be released. The October 2006 release of "Make Believe" will be followed by the release of Stewart and Dioguardi's forthcoming album self titled album, "Platinum Weird", in early 2007.
Peter @ NOBLE PR
Tel: +44 (0) 207 272 7772
E-mail: peter@noblepr.co.uk

Click here to buy 'Platinum Weird - Make Believe'
Names In The News Archive