Michael Barrymore - 'Awight Now: Setting The Record Straight'
Thursday 12th October 2006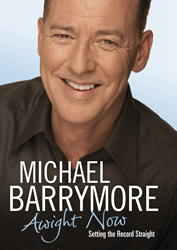 Michael Barrymore reveals the truth behind the headlines and tells his story for the first time.
Michael Barrymore is one of Britain's favourite entertainers. His appearances on Saturday night TV in the 1980s and 90s were unforgettable and the relationship he built with the audience unique. However, following the tragic death of Stuart Lubbock in Michael's swimming pool in 2001, his career ground to a halt.

Actually written by Michael himself, AWIGHT NOW is his story told in his own words for the very first time in full. He takes us through his rollercoaster life, from his poor London childhood, his work as a Butlin's Redcoat, through to TV and tabloid fame. At the height of his popularity, he suffered increasing alcohol problems and split from his wife of twenty years, Cheryl. In the fall-out, he admitted that he was homosexual and endured horrendous press intrusion into his private life. Then in 2001, came the terrible death of Stuart Lubbock. Michael tells of his despair following the tragedy and how his world fell apart. Despite tabloid rumours, Michael had no involvement with the death and has never been arrested or charged.
Since 2001, Michael has endured some dark moments but through determination and the love of his friends, he is now picking up the pieces. His remarkable TV comeback on Celebrity Big Brother has catapulted him back into the spotlight and assured him that the British public want him back. Michael is touring the UK in autumn 2006 as Scrooge in the musical Scrooge.
Michael Barrymore was born in Bermondsey, London, in 1952. His TV shows, Barrymore, and My Kind of People attracted up to 17 milion viewers and he won the award for ITV Personality of the Year three times. Most recently, Michael Barrymore has been living in New Zealand.
Click here to access press contacts
Click here to purchase Michael Barrymore 'Awight Now: Setting The Record Straight'

Names In The News Archive