Cirque de Celebrité
Friday 13th October 2006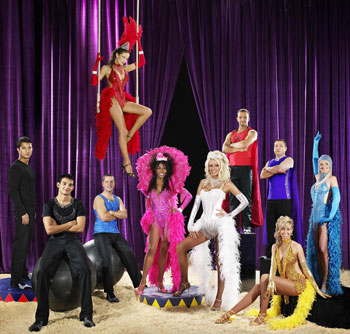 Cirque de Celebrité will begin with a 90 minute special on Sunday 15 October at 7:00pm. Sky One HD is available on Sky Digital channel 197.
In Cirque de Celebrité, the inimitable Ruby Wax presides over the fate of twelve celebrities as they embark on the ultimate reality TV experience - testing their skills and courage in Britain's best contemporary circus, Cirque Surreal. Cirque de Celebrité will launch with a 90 minute special on Sunday 15 October at 7:00pm exclusively on Sky One.Ripped out of their comfort zones, the twelve celebs will compete against each other in a pulsating series of challenges to become the definitive circus champion. This is high-tension, high-wire entertainment designed to test the steeliest nerve - and Sky One viewers have a front row seat. Sky HD viewers will be privy to every tear and every bead of sweat as the action will be broadcast in crystal clear high-definition on Sky One HD.
The 12 celebrities participating in front of a live studio audience each week are:
· Grace Adams-Short (21, Big Brother 7)
· Syed Ahmed (32, entrepreneur from The Apprentice)
· Sophie Anderton (29, Model)
· Emma B (25, Model and TV Presenter)
· Jamie Baulch (33, Athlete)
· Ninia Benjamin (32, 3 Non-Blondes)
· Mark Bright (44, Sports-pundit)
· Andy Kane (40, aka Handy Andy)
· Lee MacDonald (38, Grange Hill)
· Nicola Wheeler (32, Emmerdale)
· Kenzie (20, aka James Mackenzie, Blazin' Squad, Friday Hill)
· Sinitta (38, Singer)

Each week, under the tutelage of a specialist team of circus artists and trainers, the celebrities undergo a physically, mentally and emotionally demanding journey to learn a new discipline before facing the heat of competition in front of a live studio audience. Their performances will be under the scrutiny of our panel of expert judges including Cirque Surreal creator Phillip Gandey; Ann Dorwin, an aerialist with over 20-years experience performing flying trapeze with aerial troupes such as The Vargas, The Valentines and The Carillos; and choreographer and gymnast Louie Spence. Each week the disciplines will get tougher and one-by-one the celebrities' journey will end. Viewer's at home can vote for their favourite performer and their vote - combined with the judging panel's scores - will determine the fate of the celebrities. The celebrity with the lowest number of points will be ejected from the Big Top.
The circus disciplines will challenge the mental stability and physical ability of the celebs to the maximum. From the static trapeze to the rolling globe, the human pyramid to the swinging trapeze, every discipline will provide a new obstacle to overcome, climaxing with three finalists attempting a daredevil routine on the high-wire...blind-folded!
Click here to access press contacts


Names In The News Archive