Take That
Friday 20th October 2006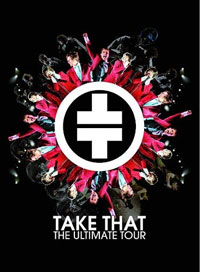 New Single 'Patience' - November 20th
New Album 'Beautiful World' - November 27th
New Tour DVD 'Take That: The Ultimate Tour' - October 23rd
After a hugely successful reunion tour which saw them play to over half a million people, Take That unveil their first single and studio album for over ten years. They are also releasing a DVD capturing the magic of their 32-date sell-out UK tour, including footage of their triumphant homecoming show in Manchester.
Take That's stunning new single 'Patience' will be released on November 20th by Polydor Records. The single will be accompanied by a video shot on location in Iceland by David Mould (Magic Numbers, Radiohead and Doves). It will be premiered on GMTV on October 20th.
Take That's fourth studio album 'Beautiful World', which features writing contributions from each member of the band, will come out the following week on November 27th. The DVD will be released upfront of both of these on October 23rd. Entitled 'The Ultimate Tour – Live In Manchester' it features a documentary on the build up to the tour and a bonus live cd as well as the live footage from Manchester.
Take That are one of the most successful British bands since the Beatles, notching up eight #1 singles and selling a staggering 25 million records across the globe. Their return to the frontline of British pop has been assured with a twice extended sell-out UK tour as well as a Rose D'Or nominated documentary 'Take That - For The Record' which was one of the highest rated and most talked-about music TV programmes of last year.
Click here to access press contacts
Click here to purchase 'Take That: The Ultimate Tour - Live in Manchester' DVD
Click here to purchase 'Take That - Beautiful World'
Names In The News Archive