Phil Cool - 2006 Tour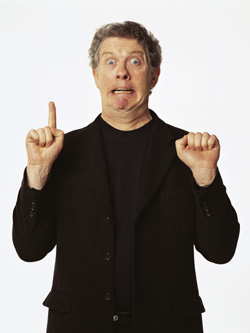 Born Phil Martin in Chorley, Lancashire, Phil Cool shot to prominence in the late eighties when, after many hard years on the cabaret circuit, a producer from the BBC spotted him working as an audience "warm up" for the satirical television programme Spitting Image.
This led to an appearance on daytime television's Pebble Mill, which was so successful that he was immediately snapped up to record a series for the BBC.
Such was the response from public and press that the series - 'Cool It' - was repeated on BBC1 within a matter of months unheard of for a new television artist. His second series won the Royal Television Society Award for Most Original Television Achievement, and a third series was screened the following year.
Since then all three series have been repeated to great acclaim and Phil has also starred in his own BBC Christmas Special as well as two series 'Cool Head' and 'Phil Cool' for Central TV. His video releases have included 'Cool It', 'Cool It Too', 'Cool & Hot', 'Cool Head' and 'Classic Cool'.
He has also released an album on Virgin Records 'Not Just a Pretty Face' and a book.

"Cool it! Out of the shadows lurches one of the cleverest comedians of this or any other generation"
News of the World
| | | |
| --- | --- | --- |
| 2 February 2006 | The Gaiety Theatre, Ayr | 01292 611222 |
| 3 February 2006 | The Albert Hall, Stirling | 01786 473544 |
| 4 February 2006 | The Carnegie Hall, Dunfermline | 01383 314000 |
| 5 February 2006 | The Lemon Tree, Aberdeen | 01224 642230 |
| 8 February 2006 | The Gordon Craig Theatre, Stevenage | 08700 131030 |
| 9 February 2006 | Pacific Road Arts & Exhibition Centre, Birkenhead | 0151 647 0752 |
| 10 February 2006 | The Albert Halls, Bolton | 01204 334400 |
| 11 February 2006 | The Mechanics Institute, Burnley | 01282 664400 |
| 12 February 2006 | The Theatre Royal, Lincoln | 01522 525555 |
| 15 February 2006 | The Arts Centre, Darlington | 01325 486555 |
| 16 February 2006 | The Playhouse Theatre, Whitley bay | 0191 252 3505 |
| 19 February 2006 | The Embassy Centre, Skegness | 01754 768333 |
| 22 February 2006 | The Pavilion, Worthing | 01903 206206 |
| 23 February 2006 | The Capitol Theatre, Horsham | 01403 750220 |
| 24 February 2006 | The Central Theatre, Chatham | 01634 338338 |
| 25 February 2006 | The Civic Hall, Grays | 01375 383961 |
| 26 February 2006 | The Stables, Milton Keynes | 01908 280800 |
| 3 March 2006 | The Concert Hall, Dudley | 01384 812812 |
| 5 March 2006 | The Pavilion, Weymouth | 01305 783225 |
| 10 March 2006 | The Prince of Wales Theatre, Cannock | 01543 578762 |
| 17 March 2006 | The Marina Theatre, Lowestoft | 01502 573318 |
| 25 March 2006 | The Palace Theatre, Newark | 01636 655755 |
Names In The News Archive