Snow Patrol - 'Eyes Open'
Tuesday 25th April 2006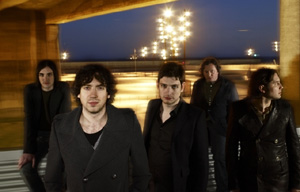 'Eyes Open' - Fiction Record May 1st
Snow Patrol release their fourth studio album, and second on Fiction Records, "Eyes Open" on May 1st.
Following the success of their last album "Final Straw", Snow Patrol knew that they had to push themselves further, work harder and make a leap forward with their new record. And that is exactly what they have done – "Eyes Open" is the sound of a band who have tried, and succeeded, to excel. Inventive and compelling, it does nothing by halves.
With the addition of new band members Paul Wilson and Tom Simpson, the Snow Patrol dynamic has changed, and as Paul and Nathan also contributing to writing duties, the band have reached a new level.
From the opening chimes of first song (and first single( "You're All I Have", the message is clear: Snow Patrol are back, bolder and better than ever. Without time to catch breath after an electrifying opener, "Hands Open" is another piece of rock perfection. "Chasing Cars" is the heartbeat of the album. Huge and emotional, the track is a personal favourite of front man Gary Lightbody and was first debuted live by the band while on the road with U2 last summer.
Another highlight among many is "Set The Fire To The Third Bar", a haunting duet with Martha Wainwright. Gary's voice works perfectly with Martha's, neither taking the lead, neither fading into the background. Final track on the album "Finish Line" is the aural equivalent of an ice sculpture in a cathedral. Ethereal and hymn-like, it's a rare perfect moments and the perfect way to close the record.
The band recently announced a low key UK tour, and all dates sold out in record time, with London's Koko going in less than 10 minutes (setting a venue record for a sell out n the process), and the Glasgow show taking less than 1 minute. Fans who missed out on tickets should keep their eyes peeled though, as there may yet be a chance to see them play live soon.
"Final Straw" made Snow Patrol into one of the biggest bands in the country – supporting U2, playing live8 and almost a million and a half albums sold. "Eyes Open" will take them on the next leg of their journey.
The single "You're All I Have" is released on April 24th
"Eyes Open" is released on May 1st
Names In The News Archive