Feeder - 'The Singles'
Wednesday 3rd May 2006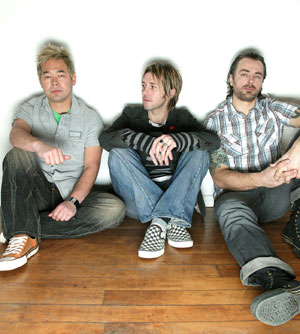 Feeder release 'The Singles' album on 15th May 2006 for Echo, which is preceded with a brand new single 'Lost & Found' on 1st May 2006. Taken from the bands last 5 studio albums, the 20 tracks include songs from the bands first album release in May 1997 up to the present day, with the appearance of 3 new tracks ('Lost & Found', 'Burn The Bridges', 'Save Us') recorded earlier this year with award winning producer Stephen Street. The album will also be released as a limited deluxe edition which features an accompanying DVD featuring 25 of the bands videos. Feeder played 4 shows in March; these were re-scheduled dates from December 2005 when the band were forced to pull several shows due to illness. Four versions of 'Lost & Found' recorded from these new dates will be available to download on the 1st May too. See more info below.
The band, who consist of vocalist Grant Nicholas, bassist Taka Hirose and drummer Mark Richardson (who stepped in after the tragic death of original drummer Jon Lee in 2002) originally formed in 1994 after Grant and Jon (from Wales) hooked up with Tokyo-born Taka in London. Feeder succeeded the hard way, with lots of hard work, consistent gigging and a strong belief in themselves and their future. The band have gone on to sell over 3.5 million records and played to countless fans around the world.
Feeder have already started work on their new album which is due for release in January 2007 and the new tracks featured on 'The Singles' should give everybody a taster of the direction the band are moving. Ultimately, they will always be a rock band but with a unique talent for melody and choruses, creating fantastic music which appeals across the board. These are only the singles to date …here's to the future hits …
Single: LOST AND FOUND Released: 1st May 2006
Limited Edition 7" Gatefold: 'Lost & Found' / 'High 5'
Limited Edition 7": 'Lost & Found' / 'Uptight'
Maxi CD: 'Lost & Found' / 'Uptight' / 'Lost & Found' (acoustic) / 'Lost & Found' (video)
Download: 'Lost & Found' / 'High 5' / 'Uptight' / 'Lost & Found' (acoustic)
'Lost & Found' live versions taken from March 2006 shows
To pre-order the live versions of the new single via mobile simply text the code corresponding to the gig of your choice to 81330.
FEEDER 21 to order the 21 Mar London Hammersmith Apollo version.
FEEDER 22 to order the 22 Mar London Hammersmith Apollo version.
FEEDER 24 to order the 24 Mar Brighton Centre version.
FEEDER 25 to order the 25 Mar Birmingham NEC version.
FEEDER LOST to order the original single version.
Album: THE SINGLES Released: 15th May 2006
Track Listing
Come Back Around / Buck Rogers / Shatter / Just The Way I'm Feeling / Lost and Found / Just A Day / High / Comfort in Sound / Feeling A Moment / Burn The Bridges / Tumble & Fall / Forget About Tomorrow / Tender / Pushing The Senses / Save Us / Seven Days In The Sun / Insomnia / Turn / Yesterday Went Too Soon / Suffocate
* Extra video's on DVD
Find The Colour / Stereo World / Cement / Tangerine / Crash / Paperfaces / Day In Day Out / Piece By Piece
Click here to buy 'Feeder - The Singles'
Names In The News Archive