Keane - 'Under The Iron Sea'
Monday 5th June 2006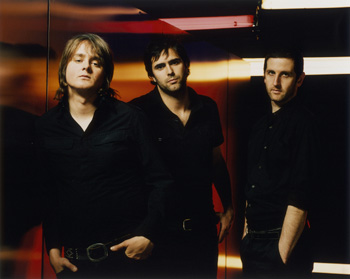 Released On : Island Records
Date: 12th June 2006
'Under The Iron Sea' heralds the hugely anticipated return of Keane.
Their critically acclaimed debut LP 'Hopes and Fears' took the band from the early nurturing of the Fierce Panda stable to become one of the most iconic and reputable acts from the UK.
In keeping with the deft beauty of their trademark melodies, Keane have written a second album that drags from the depths a mesmerising and grittier dynamic.
The underlying narratives remain constant throughout the record. They touch on the dislocation of a generation powerless to change decisions that have been made on behalf of them. The search for places that don't exist and answers that are never there become apparent foremost on first single,] 'Is It Any Wonder?' as well as on the W.B. Yeats-inspired 'A Bad Dream'.
This eagerness to pose questions culminates in an album brimming with confidence and empathy, taking the listener through the band's own curiosity,
"In the songs we created a kind of sinister fairytale-world-gone-wrong, a feeling of confusion and numbness represented by a dark place under an impenetrable iron sea."
During the making of the album, the band's unique, lifelong friendships have been tested as the lyrics to songs such as album opener, 'Atlantic' and 'Broken Toy' prove.
Experimenting with their piano-led sound, Keane channelled a plethora of guitar effects pedals through the band's electric piano (CP70), resulting in a warped take on the traditional output of the instrument.
The importance of expressing the album visually has resulted in the groundbreaking short film download of album opener, 'Atlantic', directed by cult author Irvine Welsh, as well as the artwork of Sanna Annukka, a Finnish artist whose block-style prints capture the sinister allegorical mood of 'Under The Iron Sea'.
Keane have returned with an album that moulds a bolder, smouldering and more intense sound but which retains the classic song-writing of 'Hope and Fears'.
Click here to buy 'Keane - Under The Iron Sea'
Names In The News Archive