Christina Aguilera - 'Back To Basics'
Thursday 22nd June 2006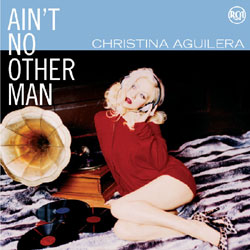 Christina Aguilera Is Back
New LP 'Back To Basics' - August 14th
New Single 'Ain't No Other Man', July 31st on RCA
Christina Aguilera is back. The eagerly anticipated double LP 'Back To Basics' is released on RCA, August 14th and is the superstar's first release since 2002's critically acclaimed, nine million-selling 'Stripped' – which sold 2 million in the UK alone. Paying tribute to the music that inspired her, it demands attention with its impressive new direction and the sexy, upbeat first single 'Ain't No Other Man', released July 31st.
Containing two discs, the new album sees her reunite with former producer Linda Perry to create an irrepressible pop sound that is defiantly Christina, while several new collaborators such as DJ Premier also appear. "This is a concept album that follows a bold, set vision," says Christina. "The touchstones are Billie Holiday, Otis Redding, Etta James and Ella Fitzgerald.... what I used to call my 'fun music' when I was a little girl."
A modern take on jazz, soul and blues from the 1920s, '30s and '40s, the second CD on the album is thoroughly inspired with a throwback style creating a sound that's gritty and raw.
Co-written by Christina Aguilera, the new single 'Aint No Other Man' was produced by Christina and DJ Premier. Recorded at Chalice Studios in Los Angeles, it strikes a vintage sound, which perfectly balances the old and the new and features mixes from Kardinal Beats (Destiny's Child, Pink) and FULL PHAT(Rihanna,Usher).
The stunning new video was directed by Brian Barber, whose previous credits include: Outkast, Ludacris and Macy Gray.
'Back To Basics' glows with Christina's distinctive four octave vocals and a musical backdrop which features an orchestra, choir, string quartet and jazz horns, as well as techniques that offer a vintage sound and sensibility. Album highlights include 'I Got Trouble' which incorporates a scratchy blues feel, 'Candy Man' that recalls the tight harmonies of all-girl groups from the '30s and '40s, and 'Save Me From Myself' - an emotionally naked, raw-sounding song dedicated to her husband.
The track 'Thank You' is dedicated to her fans and features DJ Premier splicing bits of the Number 1 smash-hit 'Genie In A Bottle' with fan voicemail messages. Also sure to appeal to Aguilera fans is the risqué song 'Nasty Naughty Boy' with its '20s burlesque feel and the sassy club track 'Still Dirrty'.
2003's Number 1 Billboard Female Artist and cover star of this month's American GQ, Christina's new album follows the smash hit LPs 'Stripped', the Spanish language 'Mi Reflejo' and the debut 'Christina Aguilera'.
One of the most accomplished performers of the last decade, Christina Aguilera has sold over 25 million albums worldwide, scored four UK Number 1's, won three Grammy Awards plus a Latin Grammy Award, as well as two top five albums in the United States. In 2004 she was awarded the 'Best Pop Female Vocalist Performance' Grammy Award for 'Beautiful'.
She has collaborated with a number of incredible artists including Herbie Hancock, Andrea Bocelli, Missy Elliott and Sean 'Diddy' Combs.
Singles
Sep '99 - Genie In A Bottle - No.1
Feb '00 - What A Girl Wants - No.3
Jul '00 - I Turn To You - No.19
Nov '00 - Come On Over Baby (All I Want Is You) - No.8
Mar '01 - Nobody Wants To Be Lonely - No.4
Jun '01 - Lady Marmalade - No.1
Nov '02 - Dirrty - No.1
Mar '03 - Beautiful - No.1
Jun '03 - Fighter - No.3
Sep '03 - Can't Hold Us Down - No.6
Dec '03 - The Voice Within - No.9
Nov '04 - Car Wash - No.4
Dec '04 - Tilt Ya Head Back - No.5
Albums
1999 - Christina Aguilera - No.14
2000 - Mi Reflejo - No.27
2002 - Stripped - No.4
The LP 'Back To Basics' is released on RCA, August 14th and is preceded by the single 'Ain't No Other Man' on July 31st.
Names In The News Archive