Richard Bacon
Wednesday 19th July 2006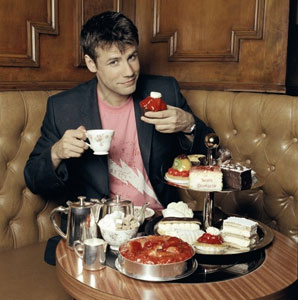 Richard started his career in broadcasting at the age of 18 with stints at his local station BBC Radio Nottingham. He presented the Saturday night music show, 'The Beat' - which is the only radio station in the country ever to have Nirvana in session.
Impressing the former Sun editor Kelvin McKenzie, Bacon then moved to L!VE TV in 1996. He joined 'Blue Peter' in '97 then got a big break in 1999 when he was picked to join the 'Big Breakfast' alongside Johnny Vaughan and Denise Van Outen. Richard stayed on the show for three enjoyable years and formed a close bond with the show's anchor Jonny Vaughan. Johnny then asked Richard to present regular features on his television chat show 'Johnny Vaughan Tonight'.
In 2002 Bacon joined cult indie station Xfm where he stayed for two and a half years. He also regularly hosted shows on Five Live.
He has been a guest presenter on 'Top of the Pops' for the last three years and co-hosted 'This Morning' on ITV1 with his old Big Breakfast colleague, Denise Van Outen. Richard also presented 'Back to Reality' on Five alongside Tess Daly last year.
In 2005 he moved to Capital Radio to take over from Dr Fox on the drive time show. Being on air for five hours on July 7th was a highlight and the station's coverage picked up a Sony Gold.
Richard recently requested a transfer back to the mighty XFM, which is a brand he has a real affinity with. He takes over the prestigious drive time slot in August 2006 and has big plans for the show including a love band slot on Friday afternoons.
Other recent projects have included the red carpet coverage of the Baftas for American Network E! earlier this year which he co-hosted with Ruby Wax.

Richard has enjoyed guest spots on 'Have I Got News For You', 'Fantasy Football' and 'Newsnight'.

He also exec produced / created 'Flipside' which he also presented. The cult show ran on Paramount Comedy and late night Channel 4.
Names In The News Archive