Chris Cox... He Can't Read Minds?
Tuesday 25th July 2006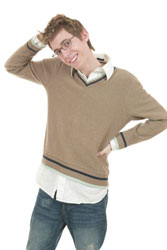 Something playing on your mind? It's probably Chris Cox.
In a show that utilises magic, illusion, psychological suggestion and multimedia technology, comes a unique entertainment experience to leave minds in a quandary.
BBC Radio 1's resident magician, Chris Cox will present his brilliantly original stage show HE CAN'T READ MINDS? as part of this year's Edinburgh Fringe, where he will demonstrate his unique powers that defy earthly boundaries...
"Unbelievable - best Cox ever!"
BBC Radio 1
HE CAN'T READ MINDS? is a fully interactive, comedy-driven, theatrical experience which takes magic into the 21st century, utilising multimedia technology and youthful flair; no wand, crystal ball or fez to be found here! With the help of his wonderful assistant 'Skinny me' (a 2D pre-recorded version of Chris), Chris delves deep into the minds of the audience, uncovering secrets, making predictions and implanting experiences he simply couldn't possibly know or do... or could he?
The 22-year old first became interested in the art of magic at the age of six, after receiving a Paul Daniels magic set; Chris comments: "When I reached 16, I became more interested in the psychological side of magic, more in particular, mind reading. I found that I could combine my knowledge of magic, with the psychological element; reading body language and deception, to make it look like I could read minds. I added multimedia elements with comedy and found that the combination worked pretty well."
Chris's impressive track record spans twelve-years during which time he has performed on numerous television shows including The Big Breakfast, Live and Kicking, Jack Dee's Happy Hour, Comic Relief and BBC 3's The 7 O'Clock News. In 2004, he became a resident magician for BBC Radio 1 after being spotted by producers while performing in Bristol and Glastonbury. He has continued to baffle and delight audiences on-air with the likes of BBC presenters Chris Moyles, Jo Whiley, Colin Murray and Edith Bowman.
"Chris has taken mind magic to a new level.
You'll laugh your head off while still being blown away"
Metro
Chris continues to insist that he can't read minds; to be the judge of that, be certain to get in quick by booking tickets today.
Names In The News Archive