The Descent

By Philip Ellwood - Monday 18th July 2005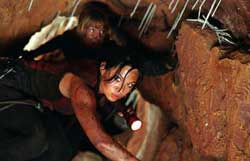 It's not often that you stumble across a horror film that is both scary and original. In fact it's even more unusal to find one that fits those expectations and is British. 'The Descent' is all of the above and is Neil Marshall's follow up to 2002's critically acclaimed 'Dog Soldiers' which proved to a very sceptical audience that British horror was not quite the dead genre we all believed.
The film opens with a tragedy before skipping forward one year. A trio of female thrill seekers Sarah (Shauna MacDonald), Beth (Alex Reid) and Juno (Natalie Jackson Mendoza) reunite to embark on what is supposed to be a safe and exciting pot-holing adventure. Sarah is still fragile after the tragedy a year earlier that claimed the lives of her husband and daughter but decides to allow herself to have a bit of fun hoping that the adventure will take her mind off things. The trio are joined by 3 other female pals and after a night of catching up they decide to go and tackle the caves. Once down there the girls realise that one of their group has been lying to them and it quickly sinks in that they are stuck, without any clue as to how to get out. As if that wasn't enough the girls soon find out they are not alone...
To say any more about the film would spoil it. The key to the film's success is the constant stream of surprises and shocks that will without a doubt have you screaming in the aisles. The film is at times claustraphobic, consistently horrifying and with enough gore to make even the most hardcore horror fan feel a bit faint. I personally find it quite hard to be scared by anything so it was with complete surprise that I found myself ducking behind the seat and watching the film through barely separated fingers.
Marshall knows how to terrify his audience and once he's got them screaming he just keeps them going. That's not to say that he's a one-trick-pony. He manages to add in a strong story and a few emotion packed scenes to raise 'The Descent' above the usual horror nonsense. The cast do a great job and Shauna MacDonald and Natalie Jackson Mendoza shine out and give the best performances in the movie.
If you're looking for a scary night out then 'The Descent' is a must. It is without a doubt one of the most terrifying films I've seen and the best British horror movie for quite some time.
Cast List
Director - Neil Marshall
Distributor - Pathe
UK Release: Friday 8th July 2005
Celebrities Worldwide Rating: 8 out of 10
Reviews Archive