Jason Mraz - Mr A-Z

Monday 13th February 2006
by Philip Ellwood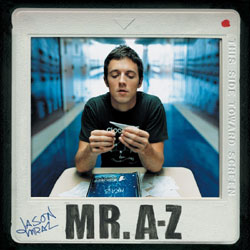 You're probably wondering who on earth Jason Mraz is? It's fair to say that you're probably not on your own as Mr Mraz hasn't quite made it in the UK with his brand of hip-pop but all that could be about to change with new album 'Mr A-Z'. Jason Mraz first came to the attention of the US music-buying public with debut album 'Waiting For My Rocket To Come' back in 2003. The album spawned the mega-hits 'The Remedy' and 'You And I Both' and the album went on to sell over a million copies in the US alone. Unfortunately thus far the success Mraz has experienced in the US hasn't translated to the UK.
Despite this Mraz's second album, 'Mr A-Z' has just been released in the UK to much critical acclaim. The album is a combination of Mraz's unique hip-pop style and a more commercial sound. This is no bad thing. Mraz's versatile voice lifts the songs above the majority of the commercial pap clogging up the charts at the moment. 'Wordplay' and first single 'Geek In The Pink' are Mraz at his rap-singing best. Both tracks highlight Mraz's ability to apply hip-hop elements to a pop/rock backing band. Part of his appeal lies in his skitting rhymes and his acoustic prowess. Without actually listening to the record it's hard to describe exactly where Mraz fits in in the modern pop world. He's not a male singer/songwriter from the James Blunt mould. His songwriting and unique vocal styling sets him apart from his contemporaries.
The album highlight's Mraz's range. The heartfelt ballad 'Mr Curiosity' shows a more vulnerable side of the San Diego native. The track is a stripped down piano ballad and takes away the bravado used in many of the other tracks. 'Please Don't Tell Her' and 'Clockwatching' are perhaps the most commercial sounding of Mraz's musical output to have been committed to record. Both of these songs would do well at radio and are potential hit singles.
The album changes pace with every track and draws to a close with the epic 8-minute 'Song For A Friend'. The song has a singalong element and is sure to be a favourite at future live appearances. The song is a fantastic example of why Mraz deserves success. The track is raw, honest and mesmerizing.
'Mr A-Z' is a fantastic record. It is rare to find such an original album in a time when the majority of music owes credit to the artists they have sampled of been influenced by. Mraz stands out from the crowd. His voice and songwriting is fresh and endearing. His vocal range is enviable and his music should feature in the collection of any music-lover.
Celebrities Worldwide Rating - 9 out of 10
Click here to buy 'Jason Mraz - Mr A-Z
'
Reviews Archive