Victoria Beckham - 'That Extra Half an Inch: Hair, Heels and Everything in Between'

Friday 3rd November 2006
By Lucy Farmer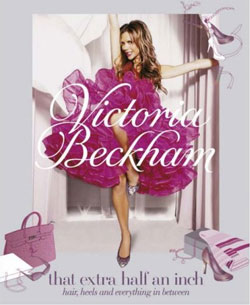 Victoria Beckham has tried her hand at most things since the dissolution of the Spice Girls. Unfortunately the majority have not enjoyed longevity, but with this next project she may just have found her niche. It seems fashion has always been a passion for Victoria, and with her wealth and designer connections she is in a good position to enlighten us mere mortals.
'That Extra Half An Inch: Hair, Heels and Everything in Between' is essentially a guide to fashion. Divided into handy chapters Victoria offers her advice on everything from jeans to jumpers and ski-wear to maternity-wear. As Victoria states, "I've always been a girls' girl" and this book is as girly as they come.
The familiar, friendly tone dotted with colloquialisms makes you warm instantly to Victoria, her personality really shines through. It is unusual, yet pleasant to feel an intimacy with the real Mrs Beckham. No longer is she the one who pouts and never smiles, nor is she David's silent other half, but more like your sister or your best friend. Her fashion advice is classic and practical, encouraging women to dress like women, to be demure yet sexy.
With nothing controversial or 'fashion-forward' in the obscure sense of the phrase this book runs the risk of being the Delia Smith of the fashion world, giving sound, practical advice but lacking in invigoration. At times the chatty dialogue becomes monotonous stating nothing more revolutionary than 'never eat beetroot because it stains'. However, the chic photography and artistic illustrations plus Victoria's glamorous edge save this book from being a bore.
The book is truly gorgeous to look at, with every page turned revealing an almost life-size image of to-die-for heels or luxurious gowns. There are also some personal touches, such as sketches for Victoria's wedding shoes and a signed photo from Roland Mouret. However, the book really excels itself with the 'Where To Shop' pages that summarise each chapter. Compiled to simplfy the overwhelming options for the average shopper, Victoria offers her pearls of wisdom after what has clearly been years of personal research! Although this book won't set the world alight, it is a classic and beautiful fashion guide for true girly girls, and this may earn it longevity.
Celebrities Worldwide Rating: 7 out of 10
Click here to purchase ' Victoria Beckham - That Extra Half An Inch'
Reviews Archive