James Blunt - 'Chasing Time: The Bedlam Sessions'

Thursday 2nd March 2006
By Philip Ellwood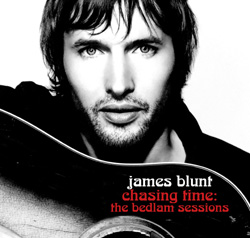 James Blunt was without a doubt the runaway success of story of 2005. His debut album 'Back To Bedlam' was the UK's biggest selling album of last year and is still selling by the bucketload. Blunt is back with a live album DVD/CD package, which should keep his huge fanbase satisfied until he finds time to record his follow-up album.
The DVD/CD package is a great idea. The DVD is a concert filmed for the BBC infront of a specially invited audience and the CD is a live recording from a gig in Ireland. Throughout both Blunt consistently proves why he has become the huge star he is today. The live aspect of Blunt's performances are stripped down and raw. The deeply personal lyrics take on a different meaning and the music feels more emotionally involving. Blunt's voice is unique and he has the ability to switch from fragile to confident in the same sentence.
Highlight's from the live CD include the mega-hit 'You're Beautiful', 'Goodbye My Lover' and the cover of Crowded House's 'Fall At Your Feet'. I wasn't a fan of the original Crowded House hit but Blunt's take on the old classic is refreshing and beautiful.
The DVD concert is further proof of Blunt's ability to capture an audience like no-one else. His performance of 'Goodbye My Lover' is nothing short of amazing. Blunt's voice melts with the simple piano backing and the end result is 4 minutes of emotional intensity. You can feel the pain in Blunt's voice and further appreciate his ability as a singer and a songwriter. Other performance highlights include Blunt's brave cover of the Pixies classic 'Where Is My Mind?' and the current single 'Wisemen'. Blunt proves that either on his own or with a band he can command an audience. The DVD also offers all of Blunt's music videos thus far, complete with 'Making Of' programmes and an interview with the man himself.
Throughout 'Chasing Time' it is clear why Blunt has been so successful. His music is honest and raw, his voice incredible and his songs are as close to pop perfection as you're likely to hear. The album makes me wish I'd caught him on his UK tour.
Those fans who are worried that 'Chasing Time' is a cash-in need not fear. Any fan would enjoy these live reworkings of the 'Back To Bedlam' album (complete with 3 songs not available on the original album). Blunt appears to be undergoing some kind of backlash at the moment but as far as I'm concerned this album illustrates that Blunt is the best singer/songwriter we have in the UK.
Celebrities Worldwide Rating - 10 out of 10
Click here to buy 'James Blunt - Chasing Time: The Bedlam Sessions'
Reviews Archive