Shakira - 'Fijacion Oral Vol 1'

Monday 20th March 2006
by Philip Ellwood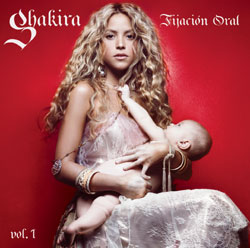 After listening to Shakira's 'Oral Fixation Vol 2', I was intrigued to hear the first part of the two album set. 'Fijacion Oral Vol 1' was originally released in 2005 to much critical acclaim and comprises of 12 songs, all recorded in Shakira's native tongue - Spanish. The album contains a mix of Spanish language versions of songs on 'Vol 2' and original material.
'En Tus Pupilas' ('Something') and 'Dia Especial' ('The Day & The Time') both sound just as gorgeous in Spanish as they do in English. The hit European single 'La Tortura' ('Torture') feat Alejandro Sanz is present in two versions. The album version is the best version but for those who prefer a harder dancebeat, check out the Shaketon remix. Like 'Oral Fixation Vol 2', 'Fijacion Oral Vol 1' sees Shakira in a playful mood. The songs are an eclectic mix of sounds. 'La Tortura' is a traditional Spanish number, whilst 'No' featuring Gustavo Cerati is a beautiful heartfelt ballad. Both of these contrast greatly with the rockier 'Escondite Ingles' and electro influenced 'La Imprescindible'.
The key to Shakira's appeal is her ability to turn her hand to any style of music and produce convincing and catchy songs. It doesn't matter if you don't speak a word of Spanish. You don't need to to enjoy this album. The music and Shakira's unique voice more than compensate for anything else that may be lost in translation. Obviously if you do speak Spanish you will appreciate this collection of songs on a different level. Either way any self-respecting music fan should have this album in their collection. The album is so varied and beautifully orchestrated, that it is easy to fall in love with it.
'Fijacion Oral Vol 1' is another great Shakira album. The album is packaged with a DVD containing the video to 'La Tortura' and behind-the-scenes footage and interview. Since discovering Shakira with her hugely successful 'Laundy Service' album, the Columbian native has continued to impress me. Her works, both Spanish and English, are musical delights and I highly recommend this album.
Celebrities Worldwide Rating: 8 out of 10
Click here to buy 'Shakira - Fijacion Oral Vol 1'
Reviews Archive