Andy Abraham - The Impossible Dream

Monday 20th March 2006
by Philip Ellwood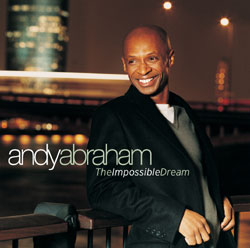 Three months on from coming second to Shayne Ward in 'The X-Factor' final, Andy Abraham is releasing his own album, 'The Impossible Dream'. Andy captured the hearts of the nation with his transformation from binman to soul crooner. 'The Impossible Dream' is a combination of original material and songs that Andy sang during 'The X-Factor'.
'The Impossible Dream' is better than I expected it to be. Andy has an amazing voice and possesses the likeability factor. The album kicks off with debut single 'Hang Up', a pop/soul track which showcases Andy's voice and is sure to give him a Top 10 hit when released. The track is a feel-good party number and it is refreshing to see Andy doing uptempo numbers. On 'The X-Factor' Andy mostly performed ballads and interestingly the majority of the ballads on the album are recordings of the tracks he performed throughout the series. Out of these the most noteworthy are Andy's incredible renditions of 'Me & Mrs Jones' and the spine-tingling Stevie Wonder number 'Lately'.
The standout tracks on the album are the original tracks, 'All Around The World' - a dance floor classic in the making - and the soul filled 'Sticky Situation'. These tracks make more of an impression and are proof that with a bit more time Andy could become one of the best UK soul singers we've seen in a while. You get the impression from listening to the album, that Andy is having the time of his life at the moment and this really shines through in his vocals.
'The Impossible Dream' is a good album. Andy's original material indicates that he has more to give on future albums and hopefully the next one will see less cover versions. The album has been rush-released to capitalise on Andy's popularity so you can forgive him for not writing his own material or releasing an album containing only original material. 'The Impossible Dream' should give Andy the platform to build on his popularity and work at becoming an individual artist. Fans who discovered Andy through 'The X-Factor' will not be disappointed by this collection of songs. Hopefully Andy will survive the curse of reality shows and find success. With an album as polished and likeable as this, he should have no problem.
Celebrities Worldwide Rating: 7 out of 10


Reviews Archive