From Russia With Love - PSP

Thursday 20th April 2006
By Philip Ellwood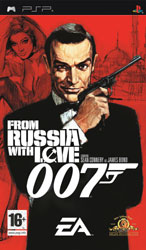 'From Russia With Love' is the first James Bond game to appear on the PSP. The game is loosely based on the movie and sees Sean Connery returning to the role that made him a global megastar. The basic selling point of the game is Connery's participation and the James Bond franchise. Undoubtedly fans of the movies will love the game but that isn't to say the game is designed solely for them. There is plenty of crossover appeal for all gaming types.
The game allows the user to control Bond and in order to progress you must work through missions based on the main events of the movie. As you work through the game you can complete mini-games which enhance the gaming experience and add value to the whole package. You really get to take control of Bond and you can even try your luck with the ladies and earn bonuses for acting like Bond.
'From Russia With Love' captures the Bond feel perfectly and the game plays really well. The controls are easy to use once you get used to them, although I did get confused by the use of the square and circle buttons to rotate the camera view. There are some great touches to the gameplay. I especially liked the combat aspect which allows the gamer to lock in on their target and zoom in for accuracy. Another aspect I liked about the game was the graphics. Bond has a fantastic likeness to Sean Connery and the cutscenes are amazing. They look fantastic and are without a doubt the best graphics I've seen on the PSP yet.
I only had a few complaints about the game. I found that I was constantly running out of ammo and kept getting killed really quickly. There did not seem to be enough ammo available and it was hard at times to defeat enemies without it. I also became frustrated by not being able to save my progress until I had completed a mission. The missions can be fairly long and whilst it allows you to return to a checkpoint if you die, it doesn't allow you to save your game.
Overall 'From Russia With Love' is an incredibly enjoyable game. The combination of addictive missions, incredible graphics and star contributions (Natasha Bedingfield even contributes to the voice cast) make the game a great addition to any respectable gamer's collection.
Celebrities Worldwide Rating: 7 out of 10
Click here to buy 'From Russia With Love' for PSP
Reviews Archive