EA Sports 'FIFA World Cup 2006'

Monday 8th May 2006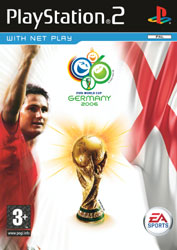 Brace yourself! It's that time again. World Cup mania is about to seize the country once again and like it or not, there will be no escaping from it. Of course, if you do love the beautiful game, you could do worse than to indulge in even more World Cup action with this new game, with the added thrill of competing yourself. Do you fancy leading your own team to glory and lifting the much-cosseted golden trophy?
This game gives you the option to dive straight in, select your team and opposition (the multi-player option making it a sure-fire mainstay of the lads' night in), and play a one off game. If you are more patient, and wish to enter into the spirit of the competition more thoroughly, you can start at the qualifying stage, use friendlies to try out different formations or player selections, and then, if results go your way, proceed to the finals and take your chances against the best. The whole game length can be as long or as short as you like.
The look and feel of the game is very good, and the graphics are stunning. Everything from the details of the pitches and lighting through to the movement of the players both on and off the ball, is extremely naturalistic, and helps with the suspension of disbelief, drawing you further into the spirit of the game. The animated resemblance to some of the players is likewise pleasurably accurate. Cleverly, they have written into the game elements of human weakness, such as poor passing or appalling refereeing decisions, which, if you get away with a dangerous tackle from behind, is extremely good fun, but frustrating when you are not awarded a blatant penalty.
The playability is mostly very good and allows for variety of technique, but there are a few annoying aspects to the fairly simple functions. It is a little unfortunate that the same controls are used for both attacking and defensive play, because if you are tackling an opponent, as soon as you are successful the play mode automatically switches to attack, so if you press to tackle once too many times you break free with the ball only to hoof it pointlessly out of play. Holding down R1 makes the players sprint, but if you leave it held down, the last command is stored, which means that you can change your mind about playing a move, only for the player to go ahead and make it anyway. The sometimes unhelpful automatic player selection is also a concern, especially when toggling through nearby players fails to yield the one in the best position. For some strange reason all forwards are terrible passers of the ball, and even if surrounded by team mates, you are likely to concede possession. Where they have tightened up is that an offside player no longer has to touch the ball before the whistle blows, which saves time and frustration.
If the game play is slightly over-simplistic, the same sadly cannot be said of the main menu, which is absurdly convoluted and difficult to navigate. Just working out how to save your progress is a mission in itself, and this part of the game could have used some time spent on increasing the clarity, especially for impatient people like me who do not like having to constantly turn to a booklet.
But these weaknesses are more than made up for in playability. This is a highly addictive game, and which true football enthusiast could resist playing in the world's most famous competition? This package even has the added bonus of having a fully fit Wayne Rooney. The set length of the matches (which you can vary, but I find the default setting of six minutes per half most playable) means that it's always tempting to play just one more game. This means if you are half way through a competition you can replay games and restart matches (assuming you can work out which options to follow) until you win, unlike the real England team.
A surprisingly enjoyable feature is the commentary provided by Clive Tyldesley and Andy Townsend, which is much tighter, accurate and varied than in previous FIFA games. No longer do they finish their sentences before noticing a goal has been scored ten seconds ago, nor do they continually repeat themselves. They still state the obvious, but that's commentators for you.
If you enjoy your international football and previous games in the EA FIFA range, this one will not disappoint.
Celebrities Worldwide Rating: 7 out of 10

Click here to by 'FIFA World Cup 2006' for PS2
Reviews Archive