Spongebob Squarepants - 'The Yellow Avenger'

Wednesday 31st May 2006
By Philip Ellwood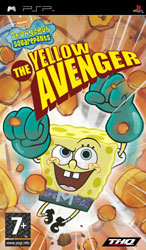 'The Yellow Avenger' is Spongebob's debut outing on the PSP. The game has already been released on the Nintendo DS and is the latest in the hugely successful Spongebob franchise. Spongebob has become an icon for both children and adults alike. His appeal is universal and his crazy, off-the-wall adventures have become must-see television. In 'The Yellow Avenger' the gamer must help Spongebob as he tries to save Bikini Bottom from the Dirty Bubble. First Spongebob must help free his world of the many little evil bubbles that have been spread around.
First thing's first, 'The Yellow Avenger' is a game that is aimed at kids. There is definitely enough here to appeal to adults but the primary audience is without a doubt kids. The game is a combination of problem-solving, platform gaming and beating baddies. If this all sounds a bit familiar then you've probably played a Spongebob game before. The formula here is very similar to previous Spongebob games so anyone expecting a new experience will be disappointed.
Visually Spongebob's world has transferred impressively to the PSP. Bikini Bottom and the surrounding areas look just as great as they do on other gaming platforms. The characters have a fantastic likeness to their on-screen versions. The only thing that disappointed me was that the characters voices have not been used in the game. When the characters interact text apepars on the screen so you know what they are saying. One of the great things about the other Spongebob games is the voiceovers from the original cast members. Unfortunately you really notice the absence of the voices and the text interaction becomes a little tedious at times.
Gameplay-wise 'The Yellow Avenger' is fairly standard. The controls use the usual buttons and there are no great surprises here. However, an element I particularly liked is the way the surroundings move around Spongebob as you explore the different worlds. The camera angle moves around Spongebob to really give the gamer a sense of a 3D world. I found this a great addition to the game and it really gives the game a sense of depth.
'The Yellow Avenger' is a worthy addition to the Spongebob franchise. Whilst the gameplay may be a little too familiar it doesn't detract too much from the game's enjoyment. It's always a pleasure to embark on a new Spongebob adventure and most importantly its target audience will love it. Whatever the game's flaws it's impossible to find too much fault with a character as utterly bonkers and loveable as Spongebob. I had tremendous fun immersing myself in the Bikini Bottom world and I'm sure other Spongebob fans will too.
Celebrities Worldwide Rating: 7 out of 10
Click here to buy 'Spongebob Squarepants - The Yellow Avenger' on PSP
Reviews Archive