Holly Brook - 'Like Blood, Like Honey'

Monday 5th June 2006
By Philip Ellwood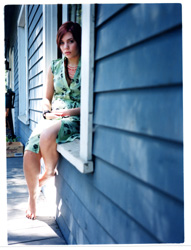 20-year old Holly Brook is the latest female singer/songwriter to be launched on the music industry. Currently awareness of Brook is being built up around a guest vocal she recorded with Fort Minor, which is speeding up to the higher end of the Billboard Hot 100. This is a clever marketing strategy for Brook. Arista Records followed a similar plan with Dido by releasing a song she collaborated on with Eminem. For Dido this worked wonders and she is one of the best-selling Uk female artistrs. The difference with Brook's launch is that she is launching into a music industry that favours R&B and Hip-hop and other female singer/songwriters are struggling to make their mark. Sheryl Crow, Jewel and Sarah McLachlan have all struggled to find success in the mainstream charts with their latest efforts.
By rights Holly Brook's 'Like Blood, Like Honey' should be a huge success. Brook is an incredible talent and this is displayed throughout the album. She has writing and production credits on the entire album and she plays her own instruments. At such a young age this is even more impressive. Brook's voice is surprisingly mature. She has been likened to Sarah McLachlan but in actuality her voice is more like Jonatha Brooke. Brook's voice is delicate, beautiful and powerful. 'Curious' displays all of these aspects. The song raises the hairs on the back of your neck. It is so beautiful I actually felt goosepimples. Brook's flawless delivery complements the sparse piano accompaniment and the song is an emotional masterpiece.
Standout tracks on 'Like Blood, Like Honey' include the Dido-esque 'Saturday', the raw acoustic title track and the stunningly beautiful 'Still Love'. My personal favourite is the piano-led 'Heavy'. Brook sings the song in a soothing, reassuring way - 'Underneath the corset of your mystery/Piece by piece undress you from your history.' The lyrics flow effortlessly and the song should prove to be a hit single for Brook.
'Like Blood, Like Honey' is a remarkable debut from an incredible talent. The album is refreshingly raw and does not suffer from being over-produced. The music very much stays in the background and Brook's voice and lyrical prowess take centre stage. With Brook's profile steadily rising, 'Like Blood, Like Honey' should catapult her into worldwide success. Hopefully Brook can make as big an impact as she deserves.
Celebrities Worldwide Rating: 9 out of 10
Click here to buy 'Holly Brook - Like Blood, Like Honey'
Reviews Archive