Duncan James - 'Future Past'

Monday 12th June 2006
By Philip Ellwood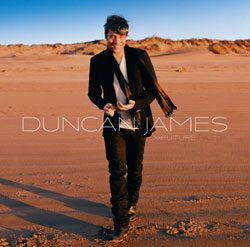 After a number 2 single in 2004, Duncan James releases his debut solo album 'Future past'. Being the last member of Blue to try his hand at a solo career James has a lot of pressure to succeed. His former bandmates Lee Ryan and Antony Costa have failed to set the charts alight. Only Simon Webbe from the band has experienced any real success. James has stated in interviews that he purposely took his time with 'Future past' to make sure he made the best album he could. Thankfully James hasn't followed the R&B lite route or tried to re-establish himself as a rock artist. Instead he has recorded a collection of quality pop tracks and stayed true to his pop roots.
The majority of the songs on 'Future Past' are radio-friendly ballads. Debut single 'Sooner Or Later' and pop/rock track 'I Come Alive' are the only upbeat numbers on the record. Some have likened James' material to Ronan Keating but this does him an injustice. Keating releases soundalike ballads that could have been recorded whilst with his former band Boyzone. This is not the case with James. None of the songs on 'Future Past' sound the same. Hidden track 'Save This Moment For Me' is a beautifully orchestrated ballad, 'Breathing' is an acoustic-led soaring mid-tempo number and 'Suffer' is a dark, beat driven song. The only real misfire on the album is the misguided cover of the Lonestar standard 'Amazed'. The track is such a well-known country ballad that it would have been difficult for anyone to have covered it successfully.
The most impressive aspect of 'Future Past' is James' voice. He has a much stronger voice than he has been given credit for. During his time in Blue, he and Antony Costa always got less lines to sing than Lee Ryan or Simon Webbe. Ryan was often considered the voice of the band and James rarely got a look in. 'Future Past' showcases James as a vocalist in ways never heard on the Blue records. Although he doesn't have the range of Lee Ryan, his voice is stronger than his other bandmates. He sings 'Can't Stop A River' with impressive conviction and control. The song could easily be oversung but James judges it spot on.
It's difficult to predict how 'Future Past' will fare for James. It is a strong pop record and is better than anything Westlife or Ronan Keating have put out in their entire careers. 'Future Past' hints at a greater talent in James. The album may have benefitted from a bit more variety and more uptempo tracks. Blue fans will love the record regardless and James is sure to pick up some older fans along the way. Whether he will become the solo star of his former band remains to be seen. Judging by this effort he's made a good start and should have set the foundations for future success.
Celebrities Worldwide Rating: 7 out of 10
Click here to buy 'Duncan James - Sooner Or Later'
Reviews Archive