Keane - 'Under the Iron Sea'

Monday 12th June 2006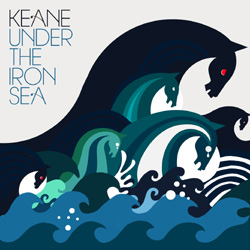 This is the second album from Keane, who, after the huge success of their debut 'Hopes and Fears' have a lot to live up to. Fortunately, they succeed on every level, and have returned with 'Under the Iron Sea', an album that is more mature, rounded and ambitious. From the opening track, 'Atlantic', Tom Chaplin's haunting, compelling vocals and the unusual yet attractive percussion and piano bias sets the tone for twelve brilliantly written tracks.
Whilst there is an overall coherent tone to the album, there is also sufficient variety of sounds to make for a most rewarding listening experience. The debut single, 'Is it Any Wonder?', whilst a very catchy song and a natural choice for a single, is an acute study of disillusionment that will appeal strongly to the twenty-something audience. "Sometimes I get the feeling that I'm stranded in the wrong time / Where love is just a lyric in a children's rhyme / Is it any wonder I'm tired?" Chaplin asks, sung in his appealingly melancholic tones.
That's not to say that the album is bleak. Far from it in parts: it can be very uplifting, but this is mostly because of the stirring effect of the keyboards. Nevertheless, the overall experience is one of greater cynicism than the more pastoral 'Hopes and Fears' – the band have grown up, and the world they write about here is crueller: their experience of it more jaded. The opening to the eponymous 'The Iron Sea' sounds like a movie soundtrack, a very rich, dramatic melody that signals brave new territory for the band. The song-writing credits are split between Tom Chaplin, the lead singer, Tim Rice-Oxley, the keyboardist and Richard Hughes on drums, illustrating the collaboration and shared artistic vision the band evidently enjoy. It is their strengths in all quarters and original sound that help to raise the band above the competition and create music of much artistic merit.
Other highlights on the album include the spine-tingling 'Crystal Ball', as upbeat and up tempo as the album gets; and 'Nothing in My Way' that would not have sounded out of place on the first album, but fits in well here with the bitter sentiment of a relationship turned sour. Overall, this album is very rich and well-produced and there is not a weaker track on it.
Some bands achieve high levels of hype and commercial success without ever really deserving either: the same is not true of Keane. They are formed of brilliant musicians and a poet and I feel sure will achieve as much success and critical acclaim with this album as they did for 'Hopes and Fears'. Long may their rich vein of form continue.
Celebrities Worldwide Rating: 9 out of 10
Click here to buy 'Keane - Under The Iron Sea'
Reviews Archive