Paris Hilton - 'Stars Are Blind'

Monday 26th June 2006
By Philip Ellwood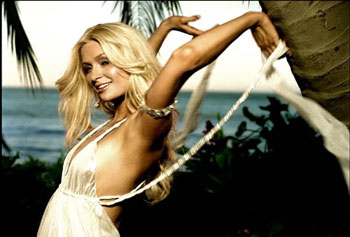 Not one to be content with just being a media darling, Paris Hilton adds another notch to her burgeoning CV by launching herself as a pop star. After conquering the small screen with 'The Simple Life' and trying out her acting chops in 2005's horror remake 'House Of Wax', Ms Hilton launches her assualt on the music charts.
You have to admire Hilton's determination. A lot has been said about the hotel heiress over the years and she is as much hated as she is loved but somehow she always manages to surprise. Her debut single 'Stars Are Blind' is a reggae-lite pop number with a distinct summery feeling. Now the cynic in me laughed when I heard Paris was releasing a reggae influenced single. After all it's hardly the musical path anyone would have guessed she would take.
On first listen my cynical side took the driver's seat and I dismissed the track and Hilton's efforts. However, after repeated listens it became clear just how clever 'Stars Are Blind' really is. It seeps into your brain and without realising you find yourself singing it before you really realise what you're singing. The chorus is incredibly catchy and Hilton's vocals are adequate enough. The accompanying video sees Hilton writhing around with a man on a beach in a bikini (well what else did you expect?) and reinforces the song's summer vibes.
'Stars Are Blind' is better than it should be. Whether Hilton will be able to deliver a full album remains to be seen and how the public will react is unpredictable. As I write this 'Stars Are Blind' is one of the top 5 most request videos across the music stations so things are looking pretty good for Hilton. Put aside your feelings for Paris and judge this song with an impartial ear. You may find, like me, that you're actually pretty surprised with the results.
Celebrities Worldwide Rating: 7 out of 10
Reviews Archive