Teri Hatcher - 'Burnt Toast'

Monday 26th June 2006
By Philip Ellwood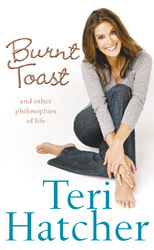 'Burnt Toast' is Teri Hatcher's attempt at sharing her life lessons and experiences to prevent other people from making the mistakes she has. The book is a mixture of musings on life, advice and autobiographical tales. Anyone buying the book to get the dirt on the 'Desperate Housewives' cast will be disappointed. The times when Hatcher refers to the people in her life, she changes their names to protect their identities.
The purpose of 'Burnt Toast' is to help the reader cope with life and look at it in new and different ways. Hatcher uses the burnt toast idea to reinforce how people often settle for second best when they shouldn't. As a child Hatcher frequently witnessed her mother eating slices of burnt toast so the rest of the famil could eat the better slices. From this experience Hatcher felt as though her mother was communicating that she wasn't important enough or deserving of the care she provided her family. The feeling of never being good enough recurs throughout 'Burnt Toast' and is something Hatcher has struggled with her entire life.
Hatcher writes in a comedic way and really lets her personality seep through into the stories she tells. Quite often Hatcher goes off on tangents (most of which she points out and acknowledges) and she frequently injects self-depracting humour into the book. It's refreshing to read something so honest and personal from such a well-loved celebrity. Hatcher doesn't shy away from talking about her rocky career path to 'Desperate Housewives' and she isn't shy when it comes to talking about her love life and her body. You get the impression from Hatcher that she has become comfortable in her own skin and with 'Burnt Toast' she hopes to help other people feel comfortable too.
One of the many highlights in 'Burnt Toast' is a story Hatcher recounts of becoming involved in an argument with a woman in a supermarket one Christmas. She tells the story as she recalls it and doesn't make herself the victim. In fact she uses the story to reinforce the idea that people should really think before they open their mouths. She points out throughout the book the sad fact that people just do not give each other any consideration anymore. No one considers for a second what someone else may be going through. Hatcher has found this throughout her career as the tabloids frequently suggest that she has an eating disorder regardless of how much they hurt her family.
'Burnt Toast' is a great read. Teri Hatcher proves that celebrities are not that dissimilar to us ordinary folk. The lessons she has learned during her life serve as important lessons we could all learn from. Hatcher's honest, straightforward approach is refreshing and 'Burnt Toast' makes her even more loveable than she already is. The stories that Hatcher tells are not supposed to be life changing. She talks a lot of sense and the book makes you think about life in different ways. With 'Burnt Toast', Hatcher wants to help at least one person with her advice. I have a feeling she'll help out many more.
Celebrities Worldwide Rating: 8 out of 10
Click here to buy 'Burnt Toast' by Teri Hatcher
Reviews Archive