Rogue Traders - 'Here Come The Drums'

Monday 3rd July 2006
By Philip Ellwood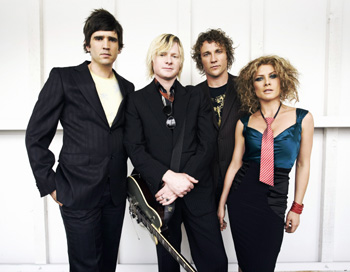 Rogue Traders are a dance/punk outfit from Australia fronted by the impossibly gorgeous 'Neighbours' actress Natalie Bassingthwaighte. 'Here Come The Drums' is the group's first album with Natalie as the lead vocalist. The group has already taken Australia by storm and has recently announced details of their first headlining tour.
Before going into the album's tracks I just want to clear something up. When a soapstar switches to music a stigma usually comes attached. For every Kylie and Dannii Minogue success story there is a Holly Valance or Craig McLachlan type failure. Fortunately Natalie Bassingthwaighte sits with the Kylie/Dannii group. Her voice is unique sounding and incredibly powerful. The last thing you would expect is soaring punk/rock vocals but with Natalie that is exactly what you get. She is well known for adding a few rock screams during live performances - and boy does she pull them off. Her voice is best described as a cross between Blondie and Kylie Minogue.
'Here Come The Drums' is an impressive collection. The songs mix dance influences with pop, rock, punk and electronica. Debut single is the deliciously strange 'Voodoo Child'. The song is a mixture of thrashing guitars, heavy bass and a playful vocal. Natalie talk-skits the verses and really lets rip on the chorus. 'Voodoo Child' has already picked up solid radio backing and is on course to be a major summer hit. Highlight's on the album include future single 'Watching You', which samples classic tune 'My Charona', the storming anthem 'We're Coming Home' and the beautiful electro-ballad 'In Love Again'. The latter track sees the Rogues slow down the pace (it is one of two slower tracks on the album) and gives Natalie the chance to prove her singing worth. She puts aside the quirky delivery and rock screams in favour of a straightforward vocal. The album's other ballad 'Rescue Me' shows the band's sensitive side and is 4 minutes of musical bliss.
The Rogue Traders are a breath of fresh air. 'Here Come The Drums' is a varied collection that displays what can happen when a band add a new member and get the formula right. The album is destined to launch the band to the dizzy heights of the UK charts and is sure to be a smash on the club scene. The Rogues make credible, infectious music and whilst they have Natalie on lead vocals they have the personality to take the music world by storm.
Celebrities Worldwide Rating: 8 out of 10
Click here to buy 'Rogue Traders - Here Come The Drums'
Reviews Archive