Review of Aminaka Wilmont at London Fashion Week 2011

LONDON FASHION WEEK - AMINAKA WILMONT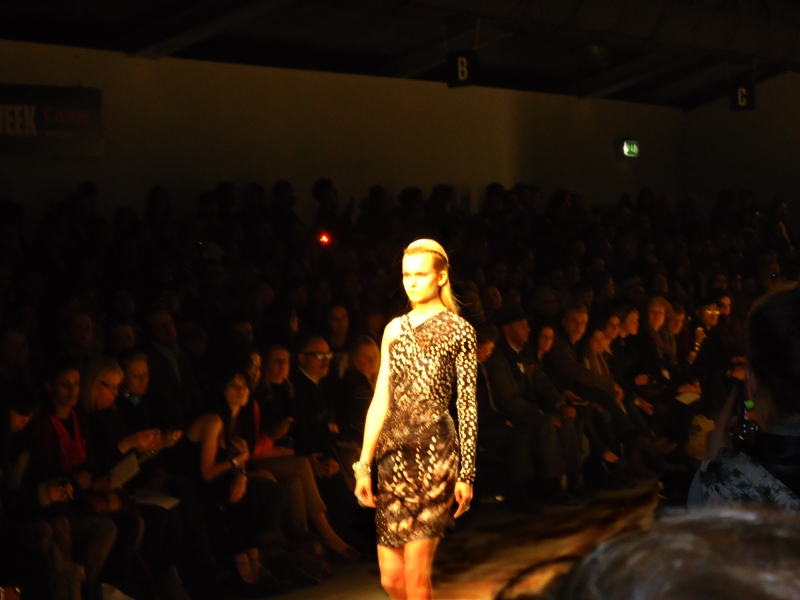 Passionate about the idea of silhouette and shape, head designers Maki Aminaka Löfvander and Marcus Wilmont accentuated draped designs distorted in both print and print for their autumn/winter 2011 collection.

The duo's inspiration this season is totems, native America, tribal influences, and animals in their natural habitat. Their flowing designs, inspired by the movement of animals, matched with soft fur, alligator prints, feather capes, and leather outerwear. Accessories also remained loyal to this ethnic aesthetic, with models wearing yellow coloured contact lenses, 'Amazonian' gold lame necklaces and long chained earrings as they strut down the runway to the resounding electronic beats.

Key pieces to the collection were the avant-garde tailored jackets where sheepskin leather was reworked with soft draping and fur trims. The main colour of the show was brown, though watercolour splashes of aubergine, stone and russet appeared on just about every piece from halter neck dresses to relaxed fit blouses.
Aminaka Wilmont saved the best for last with a striking little pheasant cape with elaborate plumage and intricate detail which had everyone talking.

Seamlessly transitioning from ready-to-wear to red-carpet, the Aminaka show's message was that glamour can be accessible and wearable.
https://www.aminakawilmont.com/
Reviews Archive