Launch of the USA Today Exhibition at The Royal Academy of Arts
05 Oct 2006
Thursday 5th October 2006
Upfront secured celebrity guests to attend the launch of the high profile 'USA Today' exhibition at The Royal Academy of Arts. These included Spurs star midfielder and art collector Edgar Davids, Bianca Jagger, Ian Holm and his wife the artist Sophie de Stempel. Showcasing work by young contemporary American artists and featuring more than 80 new art works from the Saatchi collection, this major collaborative exhibition runs until November 4th.
The focus of these new art works are upon world events and America's role in the global society. The artists confront not only their own fundamental questions but also global poverty, inequality and population migration, not to mention the gigantic environmental problems that confront the world as a whole. Artists featured in the exhibition include Aleksandra Mir, Christoph Schmidberger, Dan Colen, Erick Swenson, Kristin Baker, Josephine Meckseper and Marc Handelman. All are hotly tipped to be big names to watch in the art world.

On the evening, guests enjoyed champagne and canapés while perusing the sometimes controversial exhibits. The festivities then carried on at the after party, which took place at the private members, club 43 South Molton Street.
Other celebrity guests secured by UPFRONT for the event included Nancy Dell'Olio, Kelly Hoppen, Margo Stilley, Michael Buerk, Jade Parfitt, Miquita Oliver and Simon Amstell, Brett Anderson, Cherie Lunghi, Anna Popplewell, Tamsin Egerton, Rowland Rivron and Theo Fennell.

For further information on UPFRONT's celebrity services including guest list management please contact:
UPFRONT
39-41 New Oxford Street
London WC1A 1BN
T: +44 (0)20 7836 7703/7704 F: +44 (0)20 7836 7701
E: celebrities@upfronttv.com W: www.celebritiesworldwide.com
Nancy Dell'Olio and Nigella Lawson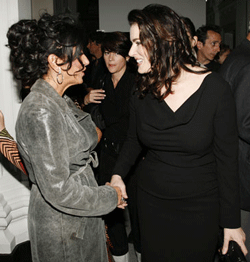 Bianca Jagger and Ronnie Grierson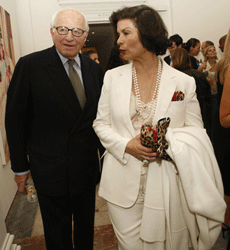 Tamsin Egerton and Jamie Taylor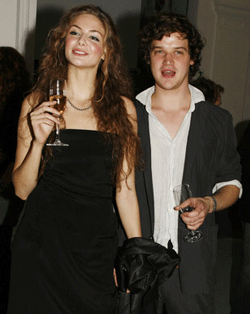 Brett Anderson and Santucia Chan-Jan-Chu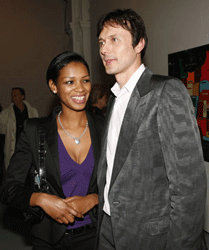 Cherie Lunghi and Tot Taylor