Erotica 2004
19 Nov 2004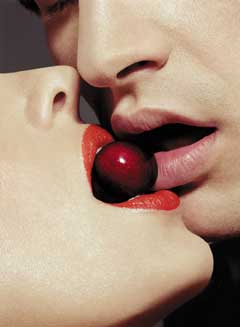 When: 19th-21st November 2004
Where: the Grand Hall, Olympia, Hammersmith Road London W14
Press and Celebrity Preview Thursday 18th November 2004
www.erotica-uk.com Ticket line: 0870 7369069
A record number - in excess of 75,000 customers - are expected to visit the 12th EROTICA Exhibition, over three days from Friday 19th to Sunday 21st November at the Grand Hall in London's Olympia, making it the world's largest adult festival.
Visitor numbers have increased by at least 10% each year since EROTICA started in 1997 and due to growing demand from exhibitors, the Exhibition now has the biggest footfall per sq metre of any consumer show making EROTICA bigger than the Ideal Home Show. The number of exhibitors has grown from 70 to 214 and the number of guests from 12,000 to a staggering 69,775 last year. Erotica spokesperson Claire Wigington says, "EROTICA has the biggest footfall per sq metre of any consumer show, it really is 'The Daddy of Consumer Shows'."
Statistics
In 1997 there were 70 exhibitors, 1700 sq metres were taken up, 12,000 visitors
In 2003 there were 214 exhibitors, 4965 sq metres were taken up and 69,775 visitors.
Expected for 2004: 230/250 exhibitors, 6000 sq metres, 75,000 guests.
The EROTICA business is an affluent one with each visitor to the Exhibition spending an average of £195 per head. This seemingly large figure is attributed not just to predictable items such as sex toys but to the sale of expensive and luxury purchases at the event such as holidays and hot tubs.
The incredible success story of Erotica is all down to UK businessman Savvas Christodoulou, former accountant for the band Pink Floyd. (Full Biog and C.V available on request). The influence and dynamic attitude to business has encouraged the Erotica brand to grow to other cities. Since 1997 there have been eleven Erotica's – eight in London, two in Manchester and one in New York.
Organisers put the growth of the consumer fair down to the universal appeal of sex and the diverse and fun appeal of the show content which attracts visitors from all walks of life – particularly 'Mr and Mrs Average' from middle England. A spokesperson said: "Some people like home improvements, some people like caravans but every human is programmed to enjoy sex!"
To celebrate the massive growth of Erotica, organisers held an exclusive celebrity and press preview on Thursday 18th November, which offered a teasing taster of the whole show. Special guests sipped champagne, indulged in chocolate and enjoyed the show. Celebrities attending this year included Lisa Maffia, Emily Lloyd, Michelle Heaton, Andy Scott-Lee, Lisa Loud, Calum Best, Pooja Shah, Naomi Ryan and Vanessa Feltz.
For the first time since it's launch in 1997, the EROTICA Exhibition at Olympia was granted a licence to show full nudity. But naturists were warned not to turn up baring all, the nudity was restricted to the stage show only. The introduction of the full nudity licence not only shows that British attitudes towards sex are becoming more liberal but also means that the stage show can give the crowds that little bit extra!
The live stage show was one of the main attractions at the exhibition and was put together by the world's largest Fetish Club Torture Garden. Their erotic, humorous, cutting-edge performances are a legendary part of the entire Erotica experience. But just because they are allowed nudity doesn't mean that they are going to flaunt it. Allen Pelling, director and stage show co-ordinator says 'The nudity will be fleeting and discrete. Hopefully the audience will be left thinking "Did I just see that?" I think that subtlety is far more seductive.'
By the sounds of it the Erotica stage show will live up to its tag line and be 'For Your Imagination.'
NATIONAL EROTICA DAY 15th November 2004
Celebrate your love life on NATIONAL EROTICA DAY
Lovers don't have to wait until Valentine's Day to treat each other! Organisers of the world's biggest adult consumer fair, EROTICA, have registered Monday 15th November as NATIONAL EROTICA DAY to encourage couples to keep each other interested and become "more sexually aware"
This year's EROTICA Exhibition runs at London's Olympia from 19th-21st November and lives up to its slogan 'For Your Imagination' with everything conceivable to keep your sex life healthy and your partner happy.
Visitors to this year's EROTICA can buy a copy of 'Lovers' Pact', the highly anticipated sexual development manual for couples which is launched at this year's Exhibition. Part manual, part journal, part sexual scrapbook, Lovers' pact invites you and your partner to make a commitment to raise your sexual satisfaction to the next level over the course of a year.
Or, lovers can dress to impress in designer corsets and flamboyant handcrafted underwear. Visit the Eternal Spirits stand and have a corset designed by those who have dressed Anamatronic from the Scissor Sisters and Sarah Michelle Gellar. Or view Velda Lauder whose design team has dressed The Honeys, Sophie Ellis Bexter and Cate Blanchet.
From toys in the bedroom to hot tubs in the bathroom, the key to Erotica 2004 is to be active in keeping each other interested in a healthy sex life.
Erotica organisers hope that NATIONAL EROTICA DAY will inspire couples to explore each other again in new ways and get that spark back.