MR KIPLING AND SHEREE MURPHY REVEAL THE NATIONíS GOSSIP HABITS
Tuesday 14th March 2006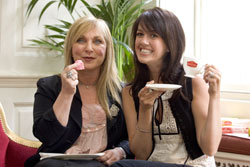 When Oscar Wilde proclaimed that 'there's only one thing worse than being talked about, that's not being talked about,' he certainly knew what he was talking about. A recent survey by Mr Kipling into the nation's gossip habits showed that the majority of Brits not only like gossiping (97%), but believe that they are the subject of gossip too (84%). What's more, according to Professor Nick Emler from then University of Surrey, 80% of what we say on a daily basis is gossip (with only 5% being malicious).
The survey, conducted amongst two thousand Brits, also revealed that the best situation for gossip is tea and cake with friends (54%), a trend heralded by the Duchess of Bedford in 1830 where women would gather to gossip over platters of light sponge cakes and show off their china . With that in mind, Mr Kipling, Britain's favourite baker, is urging the nation to get chatting over a cup of tea and an Apple Pie or French Fancy (or whichever of his cakes takes your fancy).
And why not? After all, gossip is good for you. Commenting on Britain's' penchant for gossip, psychologist Donna Dawson explains,
"Gossip is good for us because it allows us to connect to other human beings. Human existence is all about 'connecting' and being accepted by our peer group, and not feeling isolated and lonely. Tea and cake are the perfect accompaniment to a good gossip, providing the ideal way to relax and talk about the less serious things in life. At the same time, the act of sharing out cake creates an opportunity to bond with friends, putting us all in the same frame of mind".
As for why, when and where we gossip, 62% of us do so to 'spice up our day', choosing Monday 4pm as the perfect gossip hour. Women like to gossip in the kitchen, and men out number women when it comes to gossiping at the supermarket. Maybe they do so when buying Mr Kipling cakes?
Mr Kipling launched its first gossip group on March 14th with celebrity hosts Sheree Murphy and Helen Lederer, arranged by UPFRONT.
If you would like to book Sheree Murphy, Helen Lederer or indeed any of the 20,000 names from the Celebrities Worldwide database, please contact:
39-41 New Oxford Street
London WC1A 1BN
T: +44 (0)20 7836 7703/7704 F: +44 (0)20 7836 7701
E: celebrities@upfronttv.com W: www.celebritiesworldwide.com
Names In The News Archive